I woke up to some amazing news today! When it first sunk in I screamed so loudly Michael thought something was wrong with one of the puppies or dogs ... but thankfully that wasn't the case. This was good news - VERY good news!
Today is the
Welsh Terrier Club of America National Specialty, held at Montgomery County Kennel Club
(the most prestigious terrier show in the world!). We have 2 welsh entered, both a non-champion dog and a non-champion bitch (Parker and Athena). Our goal? Well, at this prestigious breeder show, our main goal was to have our kennel represented well with dogs that were competitive, and be seriously considered for one of the winners classes (ideally Winners Dog (male) and/or Winners Bitch (female) and if they did, to be competitive for Best of Winners once the champions came in to compete for Best of Breed).
Well - they both were certainly competitive! And, Wood and Jenny Wornall and Andrew Peel, as they do with all of their terriers, conditioned them and presented them beautifully! This is definitely something that has to be done for this level - there are many professional handlers in the Welsh Terrier ring, and all do a marvelous job!
PARKER
(
Darwyn's Webslinger
) won
WINNERS DOG & BEST OF BREED
!
ATHENA
(
Darwyn's Herioc Endeavour
) won
WINNERS BITCH
!
I have been told that this is the FIRST time in the Welsh Terrier Club of America history that the BOB, WD AND WB were all owned and bred by the same person! WOW!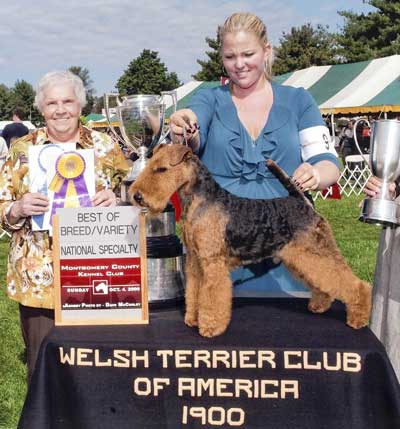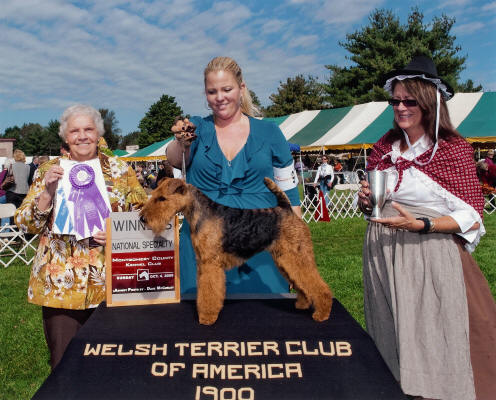 Whew!
I am somewhat disappointed that I was not there in person to witness this myself. For the first time in 11 years I missed going to Montgomery. But, I had a very good reason. Haley (Parker AND Athena's mom from 2 different litters) had a litter of 3 healthy boys just over a week ago, and Paisa (
Am/Can Ch. Sanherpinc Paisa
), my (US) multiple Best in Show bitch had a litter of SIX healthy puppies a couple of days ago.
Well, I guess as I let this all sink in, I will go and cuddle with the puppies and celebrate with Michael tonight!
Go hug your dogs - we will!