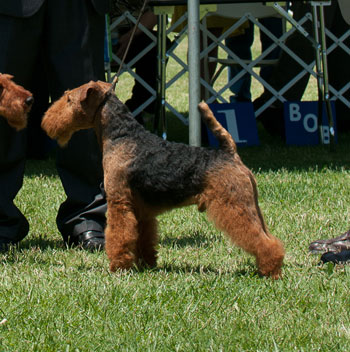 After watching Monty's littermate, Emme, win BOB

2x over Montgomery County Kennel Club weekend
(click here for one of the days at Hatboro),
I got motivated to do Monty's page on my website.
Monty is a WTCA National Specialty winner himself, from MCKC 2011
.
I decided to do a page for Emme as well.
Click here for Monty's page.
(RBIS Am GCh & Can Ch Darwyn Bruhil's Flying Circus)
Click here for Emme's page.
(RBIS/BISS Am GCh Darwyn Esmeralda in Sanherpinc)
I am forever grateful to Bruce Schwartz for his vision and co-breeding these lovely welsh with me, Santiago for selling Bruce and I their lovely mother Paisa, and to Bob of the New Husken Welsh Terriers in the Netherlands for helping me make this breeding to his beautiful dog, Bill, happen.
Thank you.