I have just come home from a FANTASTIC weekend away on Vancouver Island! Michael stayed home to 'hold the fort' (and I'm sure to enjoy some quiet reading time hanging out with Paisa and puppies :-). I went primarily to attend a 2 day seminar by
Patricia Craig Trotter
(
click here for the seminar details
). You'll see from the pictures below (and in the
attached link
), that much more happened!
CLICK HERE TO SEE MORE PICTURES FROM OUR SUNDAY GATHERING
I was very excited about attending this seminar, as Pat Trotter has been breeding top quality dogs for many decades, consistently produced Best in Show winners, won the Hound Group at Westminster Kennel Club (breeder-owner-handled!) many times, was a Professional Handler, was on the AKC Judges Education Curriculum when that was still being done and is now an AKC Judge. One of those "must meet" people in the history of dogs! I have owned her book for some time now. It is a must have, but the opportuntiy to hear her speak in person was definetely worth the money, time and distance to go. I was thrilled to find out that the Tyee Kennel Club was hosting this seminar - what a great group of people they are!
The seminar didn't disappoint - it was excellent!
Great information, good discussions and a number of good bits of insight that I have picked up (or shall we say ... the 'penny dropped for me' :-) and things that I know will help me in the future as a breeder, a handler, as a judge of my puppies and if I ever venture into the world of judging in years to come ... I know that things that I picked up this weekend will be with me years from now.
Bottom line - this weekend was a great INVESTMENT in myself and my breeding program!
I decided to bring one of my 5.5 month old puppies that I am currently 'growing up' (I currently have 2 from KSee and 2 from Paisa ... Dora & Donny; Cosmo & Monty). Kate, who has 11 year old Becky (a girl I imported from Wales years ago) lives in the (relative) area and when she found out that I was coming over, organized a small gathering of people that have one of my dogs that I have bred (they usually get together, as friends now, every once in a while. So, a mini Darwyn Welshie walk and dinner happened right after the seminar was over - thank you Kate! Since everyone that was expecting to come had a female, I decided to bring a boy (just to be different :-). And, since Donny is only 1/2 trimmed, it was an easy decision to bring Monty who I fully stripped out a few weeks ago. Monty and I hung out all weekend, going for walks, and spending time with a few of my 'doggie' friends that also attended the seminar. He took it all in stride ... never stopped waggin his tail, always interested in what was going on and didn't bark once! The hotel was very close to a beautiful walkway beside a salmon river, which made the evening walks very enjoyable.
Well, the seminar finished on time at 4:30 and as I came out the hotel I saw a whole 'gaggle' of welshies, and the people that I love so dearly that own them! It has been a few years since I had seen some of them, and only a few months, like Haley's new owners that also joined. I felt like crying I was so happy! 6 adult welshie girls, a cairn terrier and my 5.5 month old puppy boy Monty - all getting along great, all happy, all healthy. What a wonderful sight!
Here's a picture that a friend took of us all (I'm in the purple top 4th from the left, and John is holding Monty's leash) as we gathered in the parking lot ... sorting out the upcoming walk and where to go for dinner :-)
FOR MORE PICTURES CLICK HERE!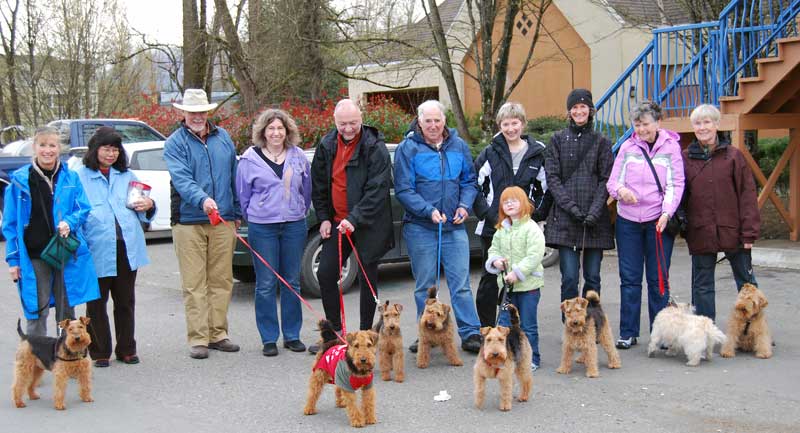 Dogs from left to right (
click on the photo to see the full thing
):
*
Becky
(11 years old)
*
Haley
(5.5 years old) ... who is very patriotic with her home-made Maple Leaf sweater on :-)
*
Monty
(5.5 months old)
*Megan M (7 years old)
*Mandi; a Becky daughter, (5.5 years old)
*Lily; a Becky daughter, (7 years old)
*Cairn (not one of mine - but still wonderful!)
*Megan T; Megan M.'s sister (7 years old)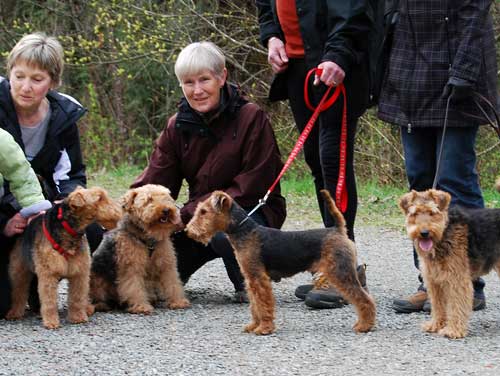 Here's a photo of my puppy Monty having a great time with all of these older welshie women!
CLICK HERE TO SEE MORE PICTURES FROM OUR SUNDAY GATHERING
Well, we had a very nice walk. It was wonderful to catch up with people that have become my friends, and to get to spend some time with dogs that I had bred (or in Becky's case, owned and loved). The choice for dinner was great - good food and a nice relaxed atmosphere at a local brew pub/restaurant. I took the last ferry home and arrived home just after midnight to greet my wonderful husband who was hanging out with Paisa (Monty's mom).
What a truly wonderful weekend! I still cannot believe just how much got packed into the weekend - it was productive, informative, educational, I met new friends, I caught up with other friends, great one-on-one puppy time, seeing dogs that I had bred 6 - 7 years ago and seeing again the wonderful people, who have been good friends of mine for some time now, again after a long absence.
Thank you all for the great weekend!