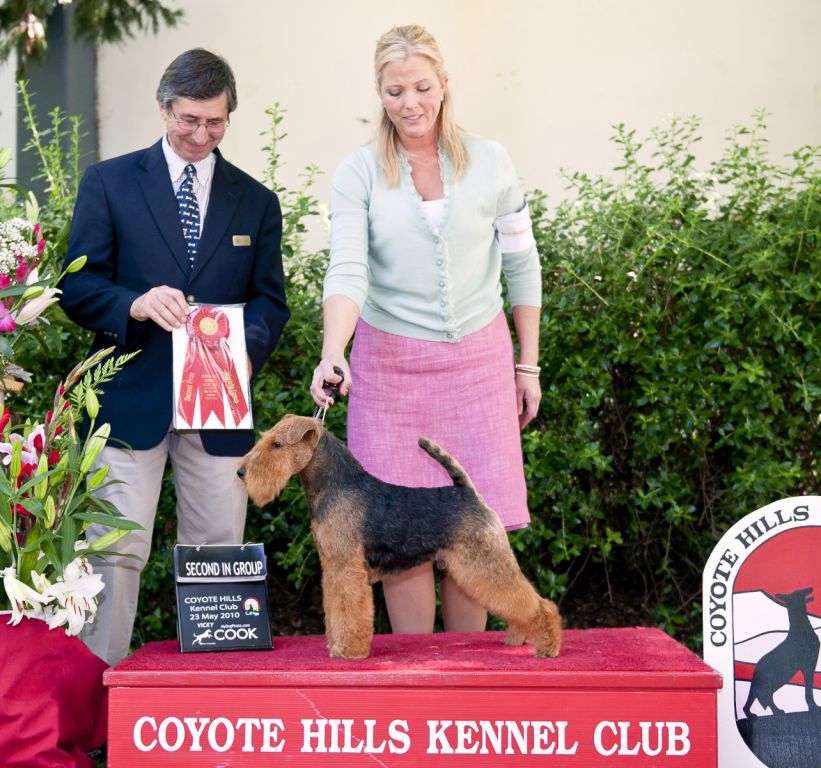 When I found out that
Joe (Am/Can CH Darwyn's I'm Not Arguing That)
got a
Group 2 (!!!) on Sat at the Coyote Kennel Club show in California
- I inquired with the Cooks (
http://www.mydogphoto.com/
) to see if they were there to take a picture. I got the most interesting note back...
"Yes, we are here and took the photo yesterday, and
just took another Group 2 photo today
!". I almost fell off my chair when I read that! Obviously I like my boy, but it's pretty stiff competition in California and he's only been out with Wood and Jenny for just under 2 months (and gotten a win every weekend shown so far -- wow!). I wish that I had been present so that I could have thanked the group judges, Mrs. Charlotte Patterson and Mr. Richard William Powell (a Welsh Terrier breeder /exhibitor himself).
When I got the photos, I was even happier! It was hard to choose which one to post here. Here is the one from Sunday, May 23, 2010 with Richard Powell, handled by Jenny Wornall.
I chatted with Woody today (Jenny's father) and he told me just how fun Joe is to show, and that he didn't even have to bait him for the show picture - just stood back and watched! :-) He also told me that he can't wait until he get's a clear bill of health (double knee replacement surgery last year) so that he can handle Joe himself! I told him, just like Jenny has, that his health is more important and that we want him 100% better first - Woody, if you ever read this (which I doubt you will since you likely don't even know how to turn on a computer :-), listen to your family and make sure you are 100% before first - you have too many people that care about you!
Good luck next weekend guys! Perhaps some nice person at one of these shows will email me a candid :-)
OH - I almost FORGOT (yikes!).
Athena (Am. Ch. Darwyn's Heroic Endeavour)
went to a dog show in Saskatchewan this weekend and got 3 group placements -- two Group 3s and a Group 2! Yippee! I got a WONDERFUL email from a friend that attended the show with her Manchester Terrier (who also got a piece of the group and a BEST IN SWEEPSTAKES!) ... she said that Athena looked AMAZING! She (Athena) is *almost* finished her Canadian Championship!