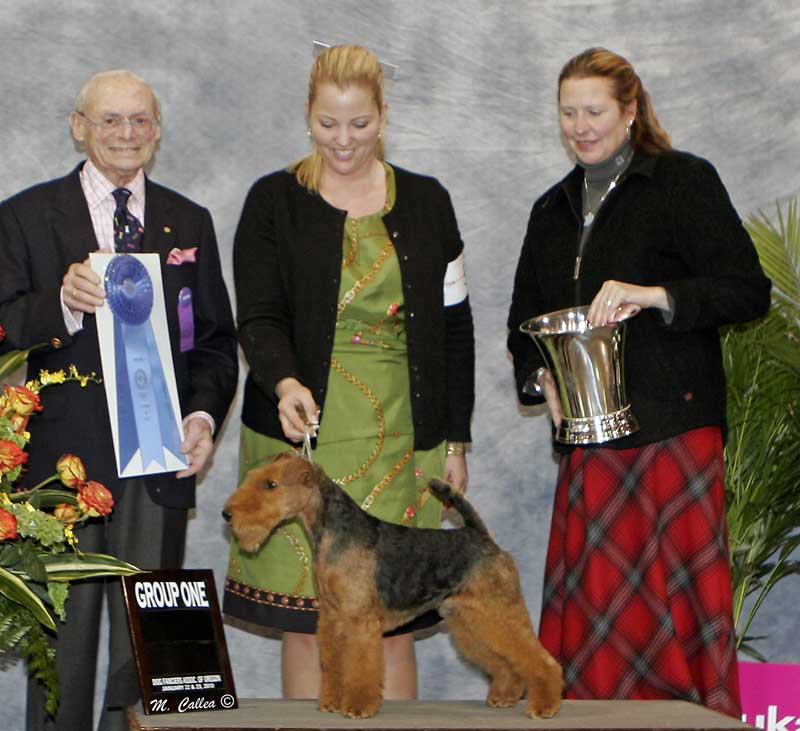 I drove down to the Portland Dog Show this weekend for the Rose City Classic, since Wood, Jenny and their team drove up for the shows from California. While it was a 6 hour drive for me, it was my opportunity to see Parker, as well as have Wood and Jenny see my puppies and how they are progressing.
It was a whirlwind of a trip that's for sure! And while the driving rain today wasn't ideal, it could have been worse. Last year there were record cold temperatures and snowfall! Definitely worse!
Well, today Parker's sire won the breed. I was ringside and watched. Parker showed and looked great (he really did actually, and, I know I am biased, but just ask anyone who knows me, I am really hard and critical on my dogs!), but I guess today's judge liked Spyder just a bit better. Oh well, that's the way it goes ... and it seems like that's the way it has been going this month, sometimes Parker wins and sometimes his sire wins the breed. What I can say is that both of these boys are in EXCELLENT condition, both are handled beautifully and both (albeit each are different styles of Welsh Terrier - one a bit more extreme and the other a bit more moderate) are beautiful dogs. So - kudos to Parkers sire today - nice win and good luck in the group ring!
Now yesterday ... that's a different story ...
Parker won the breed and then
WON THE GROUP
!
311 Terriers entered
!
When I was in the stands at the group ring, people around didn't know I was associated with him, and the comments were so wonderful to hear! I was so happy, and proud, to be his breeder/owner. Out of all of the beautiful terriers in that ring, I must have heard "the beautiful Welsh Terrier" referenced at least a half-dozen times! I wanted to say something, but felt very awkward - especially as time went on! When he was pulled out in front, and given the Blue Rosette, I was beside myself! Best in Show was on very late last night, so by the time I got back to my hotel room, saw to the puppies that I had with me and called Michael, it was very late and I was exhausted!
While I was at the show yesterday, I took the opportunity to get Parker DNA tested and "collected" and semen frozen ... being a first time, and young, dog, I was expecting this to be a difficult process, but I went to the company that Wood Wornall recommended and it "just worked". Perhaps that was why Parker showed so well in the group last night! :-) I also got a chance to spend some quality time with my boy ... what a wonderful dog he is.
What an exciting day - and weekend it has been!
On top of this great win for Parker (and getting him collected successfully), I heard some great comments about the puppies. I was told that if I wanted to place either of my 2 puppy bitches, OR, either of my 2 puppy dogs, that I was growing up, that a number of very good show homes were available and that they were 'specialty winning' potential quality! YIKES! :-) I don't know ... we'll have to just wait and see how they turn out, but that was very exciting to hear! I knew that I liked them, but it is nice to hear positive comments from people that have been around GOOD terriers for many decades. Very exciting! Well, the girls are staying here that's for sure ...
Dora
is my only girl out of my group winner
KSee (Am/Can Ch Saredon Chasing Secrets
), who has now been spayed and placed. And,
Cosmo
, co-owned with my friend Bruce, is one that he and I want to grow on given that she is out of our
multi BIS bitch, Paisa
. And, for the 2 boys (Cosmo and Dora's brothers) ... well, right now I think that I just want to grow them up at home. I LOVE both of their pedigrees, think they are terrific puppies and am just enjoying watching them grow. Perhaps one day they will be available to the right home - but it really would have to be the RIGHT home.
Next stop - New York City in a couple of weeks for the famous Westminster Kennel Club at Madison Square Garden! Michael and I will both be going, and will likely make a holiday of it (see the city, go to a couple of musicals ... enjoy our time away!). I can't wait! Of course I am hoping for the best for Parker, but I am sure that he will look beautiful and we will enjoy ourselves!
So, as always, a huge thank you to Wood and Jenny Wornall for presenting and conditioning
Parker
... and of course a big thanks to Andrew Peel and Caitlyn for all of your support and help! It wouldn't happen without you guys there! Thank you!