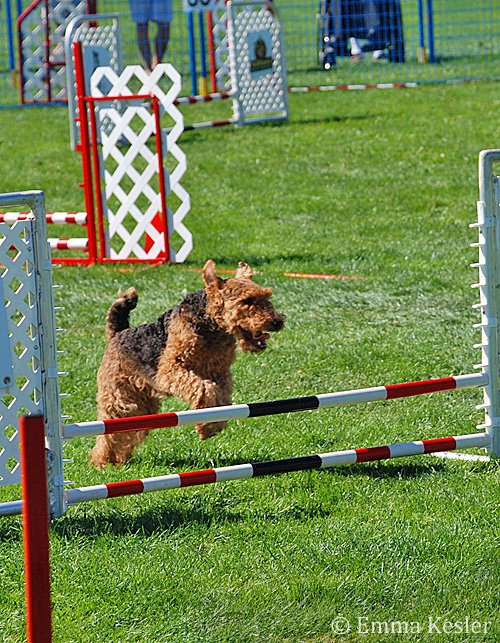 Dylan
U-CDX Darwyn Hotspur CDX, RX, AgX, AgXJ, MADC,MJDC, AGDC, ISDs, RL3

, CRN, MCL, JE, CGN


Photo by Emma Kesler
Peggy and 9 year old Dylan were invited (and attended) the 2012 Canadian National Agility Trials and came in 15th!
Just to be invited is pretty darn awesome. To get qualifying scores is even better (especially on a super hot weekend). And, to finish in the top 20 -- WOW!
A lot of hard work went into this team getting there.
To be Dylan's breeder is very humbling when I see them working together. They have top scores in many types of events whether it is in Rally-O, Obedience, Earthdog, or Agility. If she had any interest in conformation there is no doubt in my mind he would have easily been a conformation champion as well. I bow to Peggy's determination, efforts and successes.
The fact that Dylan is the most titled Welsh Terrier in Canadian history leaves me speechless.
Emma Kesler, a local welshie owner, friend, and very talented artist, photographer and writer, attended this event. She took this photo and wrote a wonderful blog post.
Click here to go to Emma's blog post.
Click here to go to Peggy and Dylan's web page on my Darwyn Website.
I am not sure what is next for this team, perhaps it is more earthdog, or to finish the Utility Level obedience that they have already started, or further Rally-O trials, or more agility (or all of the above!).
I do know that they bring joy to each others lives, and as his breeder, this is my ultimate reward.
Here is a photo that I took of Dylan performing at a Masters Level Agility trial during 2010 - he was so happy doing this!