BIS/BISS Am.Can. CH Darwyn's Webslinger (Parker)
Handler: Sonya Cornick (co-owner, Australia)
Photo credit: Paulene Zullo
Parker (BIS/BISS Am/Can Ch Darwyn's Webslinger)
has now dipped his paw into the Australian show rings. Based on feedback he has been very well received by judges, exhibitors and spectators. He is "piloted" beautifully by his
Australian co-owner, Mrs. Sonya Cornick
.
In their first weekend out together,
Sonya presented Parker and was awarded a significant Group 1st Win!
The group was
judged by terrier specialist judge and Airedale Terrier breeder
, Miss Rebecca Preece-Harvey. 115 terriers in the ring in NSW was not a small show - woo hoo!
Click here for a link to these show results (Terriers are Group 2 in Australia)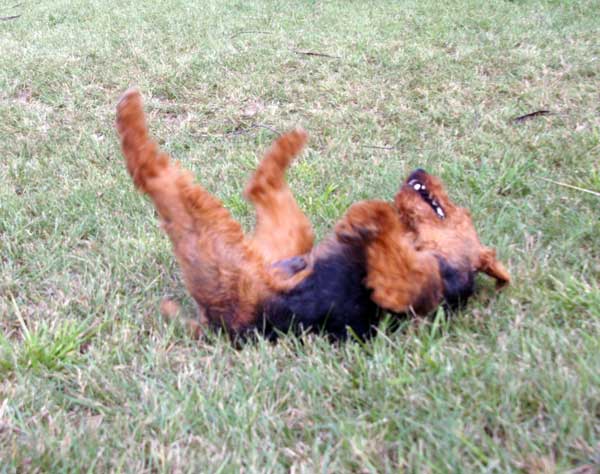 Parker has clearly fit into Sonya's home well and is loved very much. He is now making it fun for Sonya to get back into the show ring.
Good friends are hard to come by, and we are
very
happy to share Mr. P with them.
I can't wait to see Sonya again at MCKC in a few weeks time - both of us travelling to the eastern US! You see ... Sonya first saw Parker at MCKC 2009 when he won BOB at the WTCA National Specialty from the classes! During MCKC 2011 weekend, after much contemplation, I made the decision to offer him to go to Australia. This Montgomery, we will be watching beautiful dogs, learning (as always) and toasting to Sonya and Parker's success. I am so happy this has all come together so nicely. If you are in NSW/Australia and see them, please say Hi for me, and give Parker a little cuddle.
We wish Sonya and Parker continued success and enjoyment.