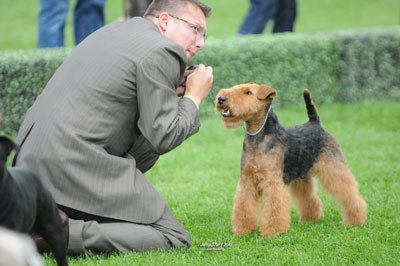 I came home from a very exciting trip to Oklahoma City this past weekend (definitely another blog post!) ... I was evaluating an 8.5 week old litter that
Parker (Am/Can Ch. Darwyn's Webslinger)
sired (and I am VERY excited about ... but again, another blog post!) ... I picked up Parker from his handlers home last night to learn all about the shows he attended over the last couple of weeks, and really nice wins! The Group 1st and Group 2nd wins means that he continues to be the #1 Welsh Terrier in Canada - in only a handful of show weekends! I know that he enjoys being home, but looking at this candid taken last weekend by
Lisa
, he clearly enjoys being with Aaron ... it's a very good thing!
And today, Chris of '
Photos Now
' sent me a few of Parker's recent win photos (I would have bought more, but it sure does add up quickly!) ... thank you Chris for your super-quick turnaround!
And, now that I know how to do Picasa slide shows,
just click here for the full album
!