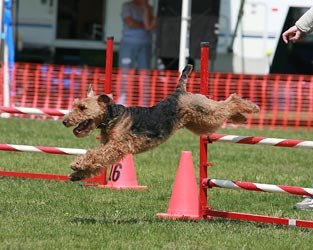 Over the last couple of weeks
I have learned of 3 Darwyn bred Welsh Terriers that are excelling at training with their owners. A young puppy. A relatively recently retired show dog (and Welsh Terrier Club of America, US, Specialty Winner at that), and a very accomplished 8 year old dog doing new things!
First - the 8 year old dog, Dylan with Peggy. They continually amaze me, and make me proud.
Go to Dylan's web page here
. Today I was informed that
Dylan passed his first UTILITY (Obedience) leg today!
WOW! This is the top of the top of difficulty level. This is a huge accomplishment - for any dog/owner team - but more so for a terrier owner-handler team. Congratulations Peggy! This accomplishment puts you to the #1 Welsh Terrier in Obedience in Canada - yet again!
Click here for 2011 results!
And, Peggy and Dylan (
U-CDX Darwyn Hotspur CDX, RX, AgX, AgXJ, MADC, MJDC, AGDC, RL3)
don't just do Obedience, they also do Rally-O and Agility (at the Masters Level!). I've seen it with my own eyes -- it's amazing and fun to watch! If you are ever in the Alberta area, and there is an agility trial, check to see if a Welsh Terrier is running ... Peggy and Dylan are a wonderful sight to watch!
The second thing is that I was informed recently that one of my Montgomery 2009 winners (
Athena/Addie - Am Ch Darwyn's Heroic Endeavour
), with her new owner Gloria, finished their class on basic obedience with a 98% score! Gloria has now started on agility training classes - and really enjoying it! Not only beautiful, and a terrific dam, but Addie is also smart and keen to work! I can't wait to go out and watch Addie and Gloria jumping in the agility field!
And the last exciting news that also came within the last couple of days is a young puppy - a 6 month old son of Athena (Addie) named Henry. Henry's owner wrote:
"He is really starting to develop his own personality – sweet and charming, full of energy, wants to play and boy does he like to fetch, and then quiet when asked to. Obedience classes continue and he is doing well – have started to try off lead heeling on our morning walks, always on the lookout for robins darting around and the ever present squirrel population in the neighborhood – and he is getting the hang of LEAVE IT!"
The one thing in common that all of these people, and myself with my dog training in conformation, is
that we are all having FUN doing work as a team with our dogs.
If Peggy and Dylan, and Gloria and Athena, and Dale and Henry and myself with having 4 month old puppies walking on a loose lead for show training, can do it, than so can anyone! It just takes some time, patience, and the right type of motivation. I know of a very good trainer in the Lower Mainland area, if you are interested, please contact me.
She is convinced that a working dog (training) is a very happy dog - they have a job and these terriers CAN do it!