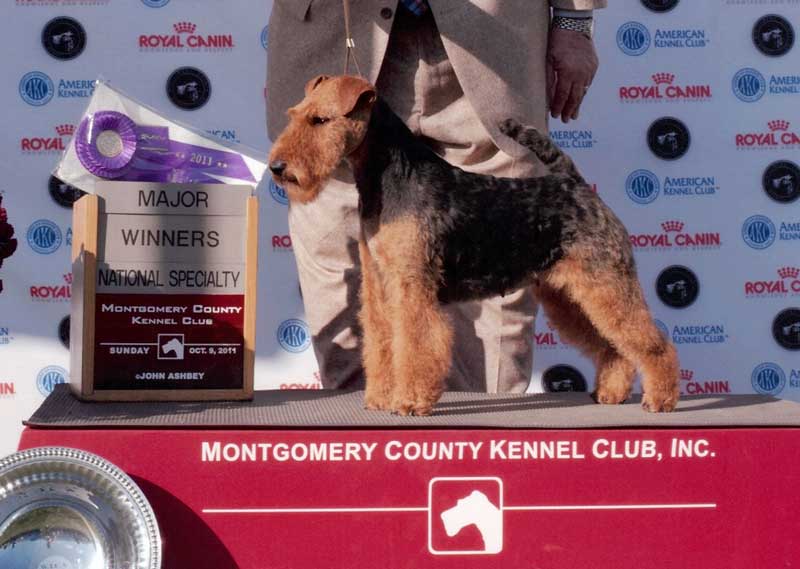 Last month I attended a US Welsh Terrier Regional Breed Specialty (WSWTC) and brought 2 Welsh Terriers -
Dora
and
Trooper
. Dora, who was
Winner Bitch (and AOM from the classes) at the WTCA National Specialty at Montgomery last October
, and who had her second litter a few months ago, was awarded Best of Breed. So, she is now officially
BISS Am Ch. Darwyn's Dora the Explorer
! Admittedly, Dora wasn't quite in the same coat condition she was in last October, but the breeder-judge, Mr. RC Williams of the well-known La Sierra Welsh Terriers of California didn't seem to have a problem finding her and giving her this award.
I also brought with me a young dog,
Trooper -- Darwyn Here for a Good Time.
This was his second show, and I put him in to see how he would do and to support the club. He did very well, going Best of Winners at the Breed Specialty and multiple times on the weekend for his first points. He still looks like a young dog, and like his sire, I think he will be best in a year or so ... so, for now, he will only go to the odd show and mostly just enjoy being a dog at home with us.
Many thanks to Mr. Williams for these breed specialty wins, and to Barb Decker and the rest of the show committee for organizing this wonderful annual event. If I did not have to rush home due to a dog at the vet in surgery, I would have stayed for the wonderful dinner and silent auction ... next year I'll be there for sure!
In fact Michael and I just got back from a vacation to Long Beach/Tofino area and have many wonderful photos of this boy playing on the beach and enjoying boat rides ... stay tuned!