Joe (now American / Canadian Champion Darwyn's I'm Not Arguing That)
finished his American championship in style today!
This weekend he went to the Northern California Terrier Association and Sacramento KC shows in California and went Best of Winners (or better) EVERY DAY! The most exciting day was yesterday when he
won BEST OF BREED, competing against his sire - a multi best in show and best in specialty show Welsh Terrier! Click here for details
.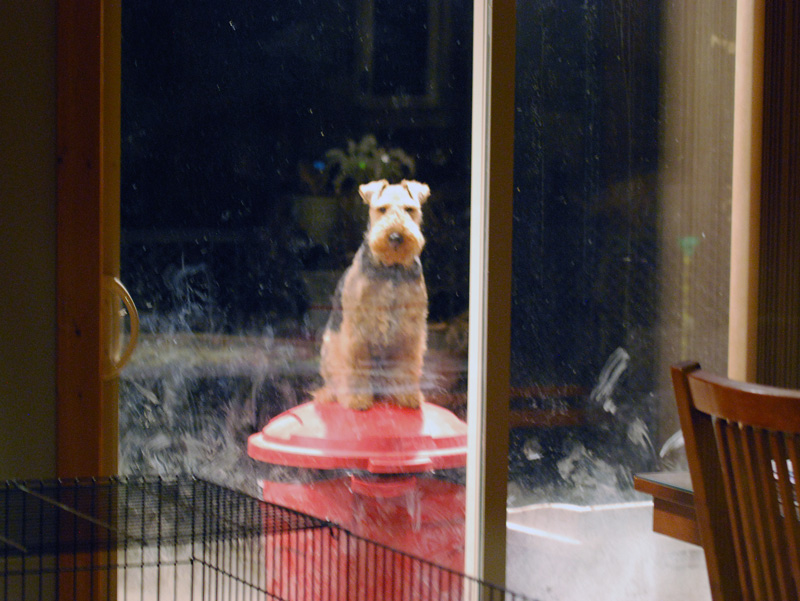 Just think, a month ago
Joe
was home hanging out with Michael and I (and Paisa and the 6 month old puppies), and now he is a finished champion, and beat a dog that has been activelly campaigned for about 2 years!
WOW
! Of course, this is where you would expect a show picture - right? Well, an earlier post this month has his first US Group placement photo, and don't worry, there will be time to get other show photos posted. Today I wanted to show off his character! The picture above was taken a month ago (very rough trimming by me) - he was on the deck for a few minutes and I guess decided that he wanted to come back in - and what better way to tell us, than to stare us down while being on the highest point he could get up on! :-)
The ones below, taken a few months ago (obviously I had let his hair grow - and grow!) show him very interested in the world around him ... Michael,
K-See
and
Joe
and I had a great day out at
Lighthouse Park
! One of my favorite places.
Joe is now my 12th American Champion Welsh Terrier!
(not counting Canadian Champions in this)!
Another exciting thing (for me) today is that I also got a chance to see a litter he sired that are now 6 months old ... all I have to say (well, 2 things) ... (1) I'm thinking that he has a stud future in front of him, and (2) I'm not really looking forward to competing in the ring against your offspring ... Brecon and his sisters, are very nice looking Welsh Terriers ... too bad I don't own them ;)
But seriously, I'm really proud of Joe - and him being my 12th Am. Ch. As many people who know me, it is clear that I do not have (and never have had) a very large breeding program. While Michael and I are retired and have the time (and property) to dedicate, we enjoy living with our dogs also. A couple of years I have stretched things and have had 3 litters, but the vast majority of years that I have been involved, I have had 1 litter a year ... sometimes none. I know that I could have made up more Am. champions than this (there are some pretty awesome looking pets out there!), however, as I say, you can't keep them all, and there are some amazing pet homes - right guys? You know who you are - thank you :-)