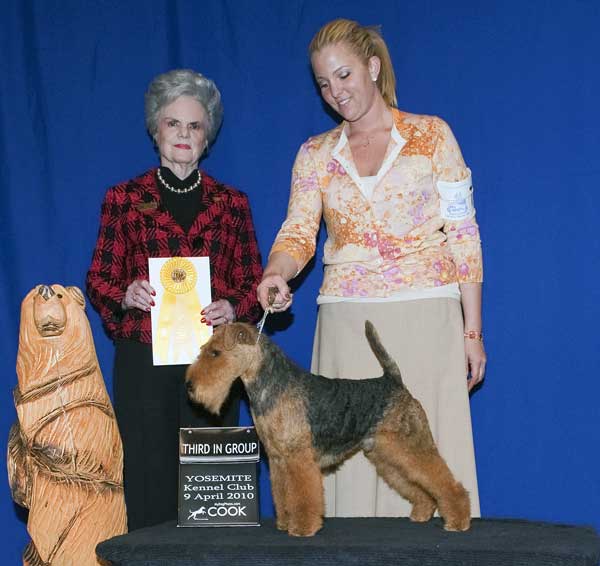 1st weekend out and Mrs. Michele Billings found Joe a group placement (from the classes)! Thank you!
Of course, Jenny Wornall presented him wonderfully, and a big thanks to www.mydogphoto.com for this great photo!
A couple of weeks ago our boy
Joe, (Can. Ch. Darwyn's I'm Not Arguing That)
made the trek to California to join Wood and Jenny Wornall's team.
Joe finished his Canadian Championship pretty quickly as a puppy (a few Group placements and a Best Puppy in Show award ... Aaron, you did a great handling job that day!). While he was still 'in coat', I took him to a couple of US shows (where he got both of his majors -- owner/breeder handled, and a Group 2 in the Bred-By Group at Northern California Terrier Association in Sacramento). After last summer, I just let him grow up at home while were mostly preoccupied with lot's of puppies. Joe's hair grew (and grew and grew) ... he had a blast playing with the young puppies and being
Paisa
's running mate in the yard and on the couch.
A couple of months ago I decided that his coat was a 'do-over' ... and wouldn't you know it, but he had grown up and had a beautiful welshie body under all of that hair! Given how much he LOVED the show ring as a youngster, I seriously started to consider "specialing" him in Canada ... and then Woody and I chatted.
The decision was previously made for
Parker
to come home, play a bit in the Canadian show rings, and enjoy home life on our acreage for a while. I decided to send a few pictures of Joe in my rough trimming to get their opinions on how he was growing up, and they were VERY excited about what they saw! I must admit, I was also with what I saw :-)
I made a couple of travel arrangements -- Woody drove (back) down to LAX the day after he came home from CRUFTS (he was THAT excited about picking up Joe) and we changed a few entries around. Well, Andrew Peel and Wood & Jenny Wornall tidied him up to get him into the start of a show coat and away they went to Yosemite KC in California a couple of weeks later.
I was on cloud 9 when I went to the new website (
http://www.dogshowresults.com/
) and saw that his FIRST weekend in the ring, he was awarded a GROUP 3 (and at a place where there were some pretty darn nice terriers!). I am very grateful to Mrs. Michele Billings for "finding" him a Group placement, and recognizing his quality - from the classes!
Moma Sadie (Mercedes --
Am/Can Ch. Darwyn Class at a Glance
), a Montgomery Winners Bitch herself, will be very proud I am sure - her new owners (Michael's parents :-) will be here pretty soon for a visit from Atlantic Canada and I can't wait to share this news with them!
I guess I now need to do
Joe's page on my website
. Well, our guest that we have had here for the last week goes home tomorrow, so perhaps I'll work on it soon after that. I'll at least try to get around to that. :-)