I received a wonderful message about Sonney tonight! He was my 2nd Welsh Terrier. I imported him from Wales in 2000, from the well known Felstead Kennels. He sure was a sweetheart! A few years later the perfect person came along - Irene had just given her family welshie to a close family member and really wanted one to replace him - Sonney fit her needs perfectly! It sounds like they are both doing very well ... here is her message: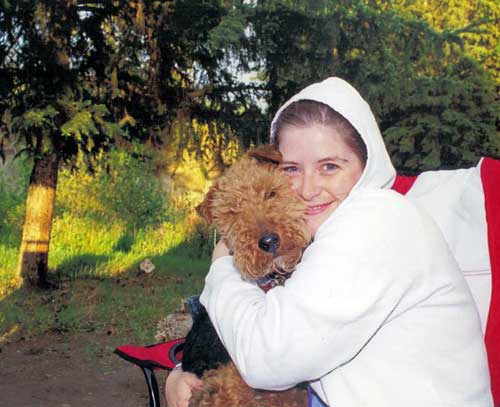 "He is the best and most affectionate dog in the world. My biggest problem with him is everyone is trying to kidnap him because he is so adorable. He helped raise a kitten and treated it like his baby -- that was so cute! He was really upset when we gave the kitten to my nephew (I was just caring for it for awhile). And, Sonney really gets along really well with with Sparkey, another Welsh Terrier I had adopted from Barb of Snowtaire kennels. I'll send more pictures soon!"
Doesn't that just want to make you smile? Happy
11th birthday Sonney
, and take good care of Irene!