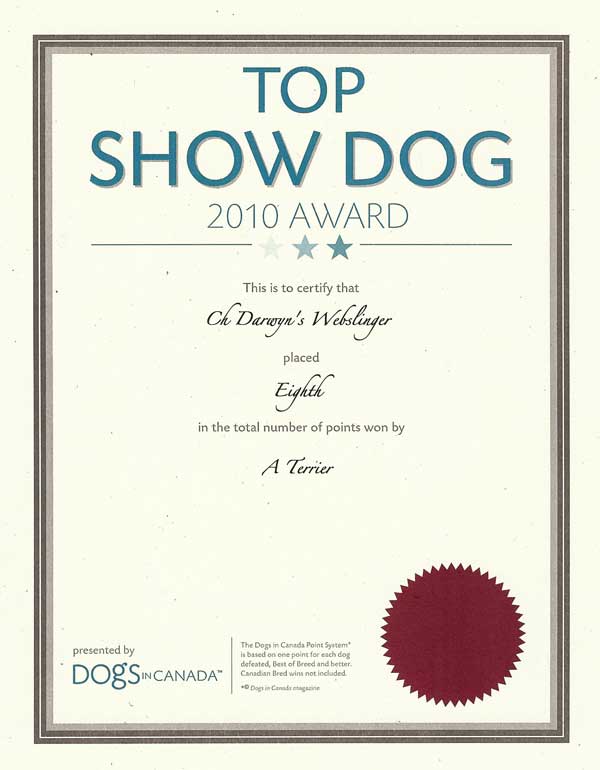 I received official news today that Darwyn Welsh Terriers owns (and BRED) the top 3 Welsh Terriers in Canada in 2010!
Even more exciting is that the #8 Terrier (#1 WT) was my boy Parker! BISS / BIS Am.Can.Ch Darwyn's Webslinger! I don't know the exact numbers, but there were over 1000 individual terriers shown across the country (many of them several times during the year :-) - and Parker was the #8 one out of all of them! WOW!
Parker officially defeated about 1000 dogs during his 6 months of showing to get to this award (pure coincedence with the numbers). Over the last 12 years, this is the highest award in Canada that I have recieved. I am so honoured, and grateful to the many judges that found the quality in Parker, and grateful to Aaron Andriash that presented Parker so beautifully during 2010 - Aaron and Parker made for a beautiful team in the ring.
Parker wasn't the only one!
Monty (Ch Darwyn Bruhil's Flying Circus) was shown on 2 weekends and in that time period defeated about 200 dogs which put him to #2 Welsh Terrier in Canada
! And,
Athena (now Addie)
came back to Canada after her successes in the US (WB at Montgomery!) and became
#3 Welsh Terrier in Canada
-- then promptly went to do her motherly duties (and did them very well! :-)
Parker's not active in the show ring this year, he's watching his 1/2 brother
Joe (BISS/BIS AmGCh & Can Ch Darwyn's I'm Not Arguing That) do VERY well with Milton and Tracy
...
JOE has already surpassed Parker's record in just 5 weekends!,
and
Monty
also got to play in the ring a few times with me (Larisa) ... very successfully I might add (many Group 1st wins!) ... and YES, I know, I still need to DO Monty's page on my website and update Joe's page! I am SO bad! Facebook is a very bad influence on me ;-)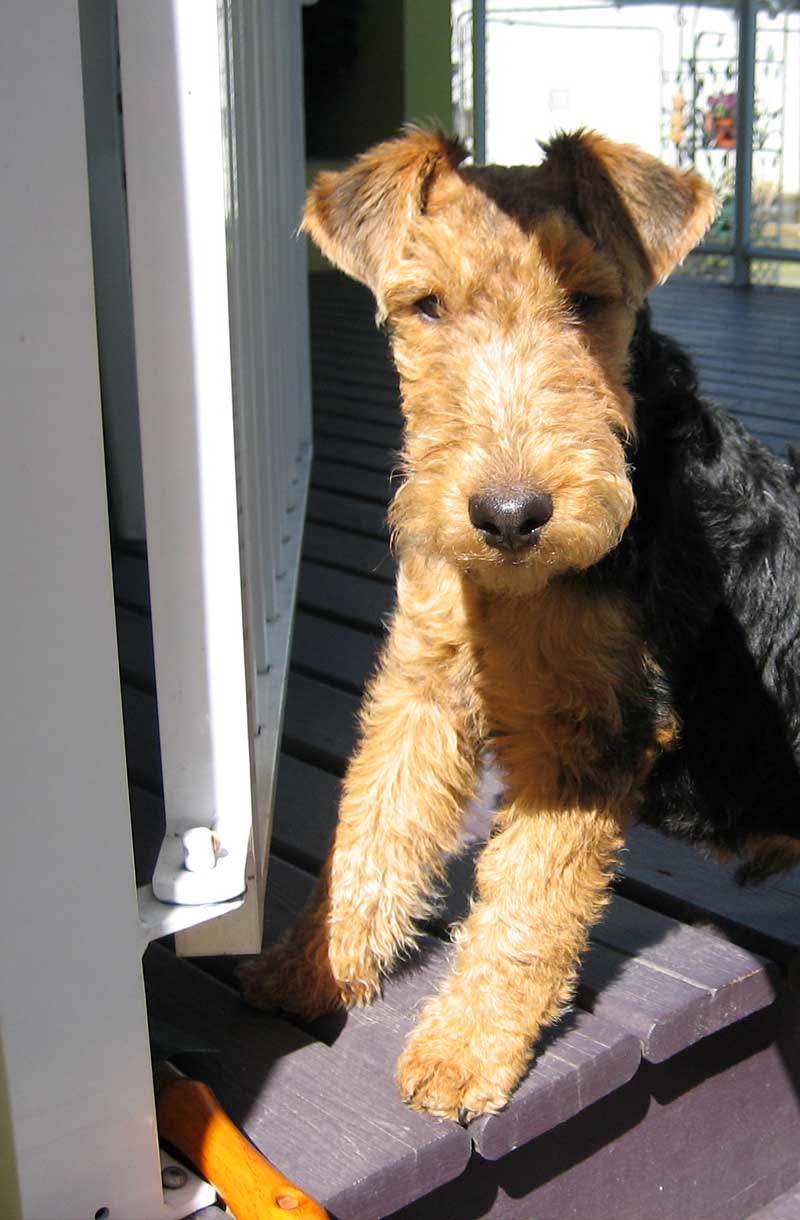 Parker might be back in the show ring - or he might just sit back and watch his beautiful puppies that he sired and watch how the NEXT GENERATION comes along. ;-)
Here is one of the "Parker puppies" at 5 months of age ... looking at this photo, I (as the breeder of both Parker AND TJ), am hard pressed to tell the difference between them - this 5 month old puppy looks very similar to what Parker did at this age in head, expression (a bit bigger ears than Parker, but that's it), bone, body, coat, texture, color, front..... a beautiful dog has sired some really beautiful "very welshie" puppies! I am so proud.