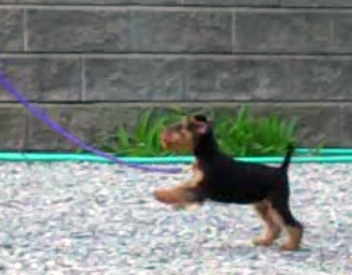 I have started to get our 9 week old (
Monty
x
Dora
) puppies used to being on a lead. So far they all seem fairly comfortable (I'm sure the cheese helps :-). I am very happy with how freely they are moving - and happy they are! Michael grabbed our flip yesterday and took a short video to share with a friend who might co-own her with me. This was so cute I thought that I would share it with you here!
Click here to watch Jessie
!
Darwyn ..... to be announced soon. If you want to watch the longer version (hope you are an Abba fan!), then click here to watch Jessie and then at the end with her sister on our deck.
Today Jessie and her brother went to my local friends home for a few days to play with kids, cats, dogs and, well, each other. I clippered one and left one with puppy coat for the kids. What child can resist cute, playful and happy puppies! FUN!