When I looked at my iPhone as Michael and I were out doing errands today, I was not expecting to see a text message, let alone a message telling us that
JOE went BEST IN SHOW today
!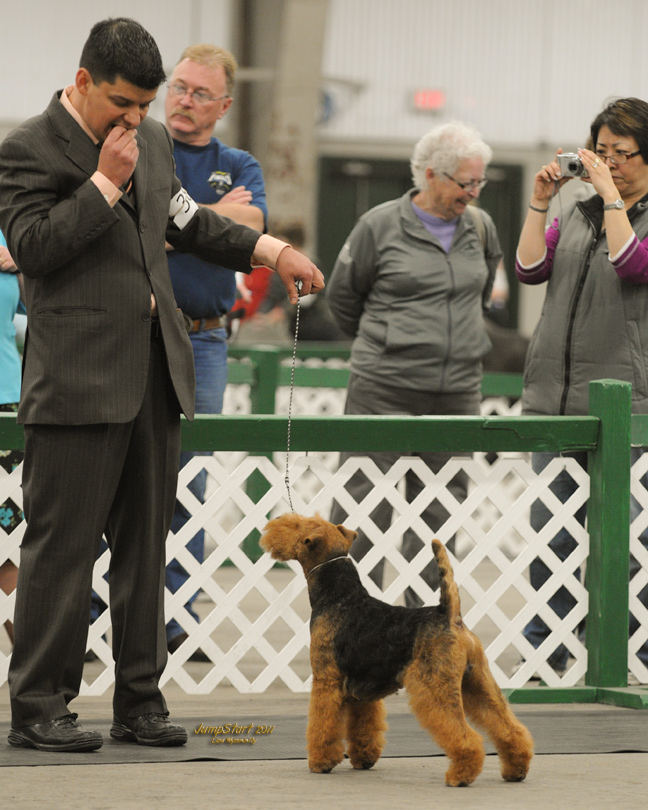 A number of people who were at the show told me that Joe was looking really great (perhaps the best that he has looked since he has been with Milton and Tracy ... while that is hard to believe!).
Tracy also told me last night that he was in excellent spirits, focused, eating well (as always) and happy! He should be - he got the chance to breed a really beautiful Welsh Terrier bitch (MBIS bitch!) over the last 3 days! ;-)
This weekends show was relatively small in numbers, but a LOT of the top dogs from across Canada are all there and very competitive! As you'll see from the link below, in the Best in Show line-up, Joe competed with other Group Winners that are multi Best in Show dogs, the #1 dog all breeds, the #2 dog all breeds and another one that is in the top 10 dog all breeds.
Click here for the results.
I am very honoured that the judge,
Mr. Walter Pinsker
, chose Joe for his Best in Show! Walter and his wife Monika have been in "dogs" for many decades, are known all over the world for not only judging, their very prestigious and well run dog shows, but their absolutely wonderful (and respected world-wide)
Mephisto Boxers
. From what I have learned, they have been involved since 1968, bred well over 100 champions, 150 best in shows and produced the dog that was the #1 dog (all-breeds) in 1975. They have also been terrier breeders.
I am so darn proud that Mr. Pinsker found the quality in my boy Joe to give him the top honours at this show, in such strong competition. Thank you.