The
Sea to Sky Earthdog Club (in Vancouver BC)
will have Earthdog Trials in September in the Vancouver area!
Click here for the specific details!
There are 4 CKC Earthdog tests with 4 sets of classes at each level as well as prizes and a breed challenge!
If you have this weekend available - please check it out!
And, as they say ... go play with them, or watch and enjoy! This is what the Welsh Terrier was originally bred to do -- and from videos that I saw of some friends that have welshies in New York, their dogs had a blast last weekend! Check out this news clip of the event!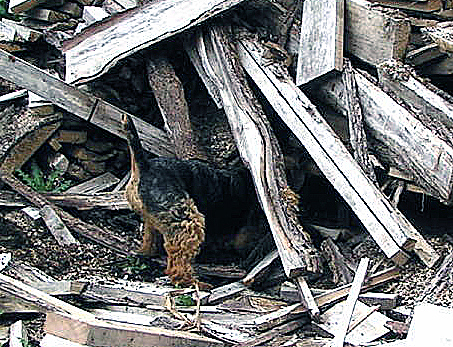 Here's a photo of K-See ... Am/Can Ch Saredon Chasing Secrets) ... taken a few years ago showing her natural instincts on my property!
Now that she lives in Alaska .... when she isn't cuddling with the fishing lodge guests, I am SURE that she is doing her very best to keep rodents away from Katies property!