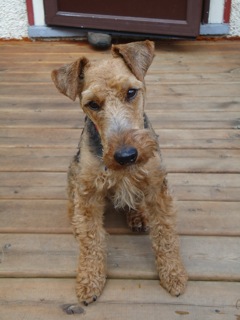 Once in a while I get an inquiry from people that think the breed is 'hypoallergenic'. While this breed does not shed much, it is like ANY dog, they do have
dander (dried skin shed from the body as with most animals), and this is what people with allergies usually are affected by
... some more than others, and sometimes things change over time. This is what happened with Fergus's family. The child's allergies have grown over time and they have come to the decision to find Fergus a new home.
He is an active and outgoing dog and loves to play with balls and toys. He also is very settled with the family in the evenings, enjoying to be on someone lap! He has had specific obedience training, and for the most part is a lovely well behaved dog, enjoys meeting new people and dogs outside, and is housetrained and crate trained. His current family takes him to a local park where they let him dig in the sand pit - and he does! Some welshies dig while others do not. I would recommend that he does not go to a home that has young children - he is used to them, but he can be a bit intense. His challenge in the home is when new people arrive, and leave (he gets very excited).
While his current owners have come to the decision to find a new home, he is a part of their family so want to keep him until the right home comes along. If you are interested and have terrier experience -
please contact me
.